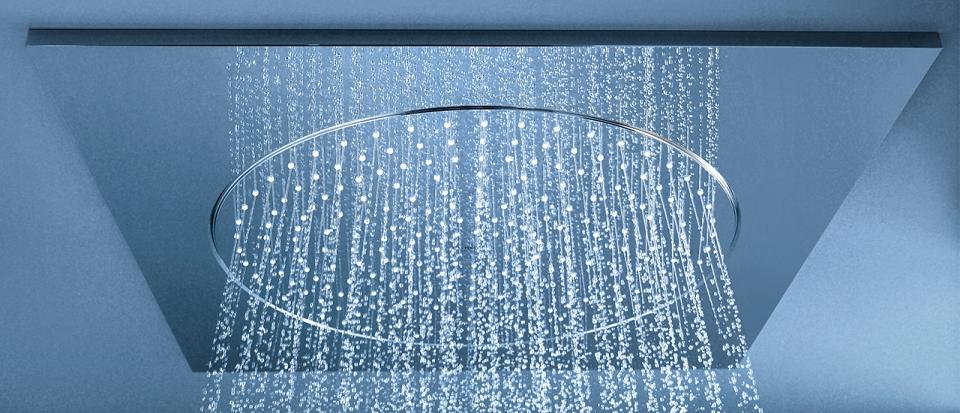 Make a Statement with a Ceiling-mounted Square Shower Head
With its graphic form and minimalist design, a square shower head will lend an air of architectural styling to your bathroom.
Ceiling-mounted square shower heads are becoming an increasingly popular choice for the modern bathroom. Taking the lead from luxury hotels and high-spec residential developments they are ideally suited to cutting edge interior schemes. Without the need for a shower arm, the shower head is fixed directly to the ceiling giving the illusion that the water is cascading from the ceiling.
The modern Shower Room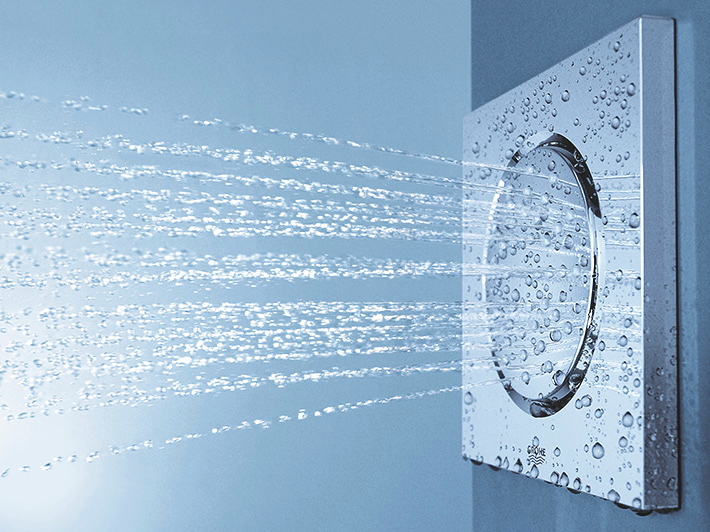 Rainshower® F-Series – square shower heads in three sizes
The Rainshower® F-Series range offers a choice of three different sizes of square head shower plus a directional side shower. The large ceiling-mounted head shower features a circular shower head surrounded by a generous 20 inch square frame. The 10 inch model is designed for use with a shower arm and can be fixed to the wall or the ceiling. A smaller 5 inch wall-mounted shower head and a 5 inch square side shower complete the collection.
Add a thermostatic shower mixer and a hand shower and you have all the elements required to create a luxurious and high-performance shower area
Rainshower® F-Series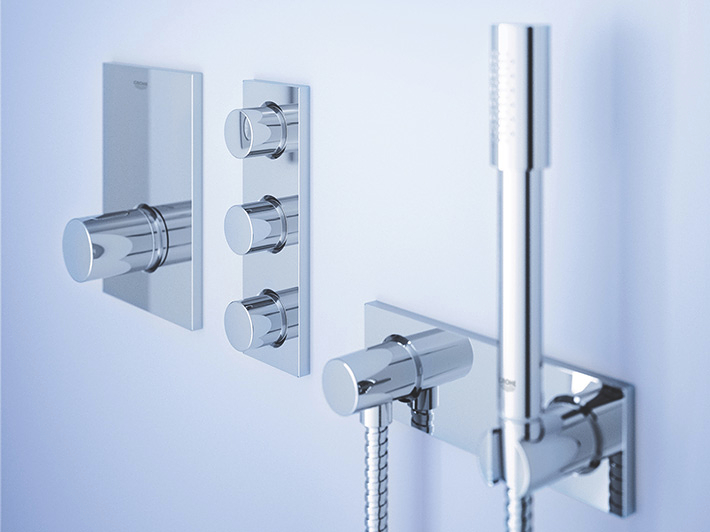 Bespoke showering
Each member of your family wants something different from their shower. With Grohtherm F custom shower controls no-one needs to compromise.
Whether you want to control one, two or multiple shower outlets, the modular range gives you the freedom to create a range of exciting experiences when combined with our award-winning shower head designs. Bespoke showering for maximum enjoyment.
Grohtherm F
Recommended product ranges